Parish Amalgamation
New Parish Formation Summary and Feedback
Frequently Asked Questions – Formation of New Parish
2017 Parish Trivia Night
A fabulous night was had by all on Saturday 26th August at the Dutton Park Trivia Night. An amazing $6377.72 was raised!! Thanks go to the Dutton Park Pastoral Council especially Julie and Luisa – another amazing function organised!
2016 St Francis Feast Day – Orleigh Park, West End
One of several dogs in attendance for St Francis' Feast Day… The dogs liked the Holy Water sprinkles more than the cats!
Marian Valley Retreat Day – May 2016
On Saturday 14th May Dutton Park and South Brisbane Parishes held a retreat at the Marian Valley.  Both Parishes had a fabulous response with 43 parishioners attending the retreat!
 2015 Volunteer Thank You Evening
As we reflect over 2015, the support from the entire Parish Community has been incredible. There have been so many put their hands forth to help out whenever needed, always with a smile. Good friendships have been built and the vibrancy from your activities is having an amazing impact on the surrounding community.
Your support is truly appreciated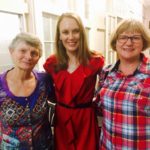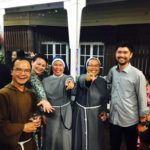 2015 Trivia Night
On Saturday 10th October 2015 the Parish held a Trivia Night in the St Ita's School Library.  The event was a HUGE success helping to raise restoration money for the Parish's three churches.  Many parishioners from both Dutton Park and South Brisbane parishes attended this event.